European Roulette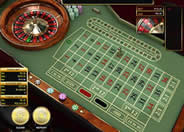 The word "Roulette" is French for "Small Wheel". The original roulette game was also known as French Roulette and it literally took over the European gambling scene in the early 18th century. A European Roulette wheel has 37 numbered slots which includes a single 0 slot.
In Roulette, a small white ball is released on the spinning roulette wheel, in the opposite direction to the spin. A Roulette wheel has numbered and coloured slots. Roulette is a game of chance and the aim is to choose which colour, number or group of numbers the ball will land in.
How to play Roulette

1. Launch the Roulette game.
2. Select the denomination which you would to bet
3. Place your bets by clicking colour, number or group of numbers.
4. To decrease a bet hold down "Shift" on your keyboard and left click the chip pile of the bet you want to decrease.
5. Now click "Spin" to begin the game.

In Roulette, you can place outside or inside bets.

Outside Bets

Outside bets are placed on groups of numbers or on a colour. Outside bets include Red or Black, Odd or Even, 1 to 18, 19 to 36, Dozens and Columns. Outside bets have higher odds but a lower payout.
Red or black - There are 18 red numbers and 18 with black numbers. A bet on red pays if the ball lands in any of the 18 red numbers and a bet on black pays if the ball lands on any of the black numbers. Winning Red or Black bet pays even money, 1-1. You keep your original bet and get an equal amount in winnings.

Odd or even - Even money bet. You either bet one of the 18 odd numbers (1, 3 and 5) or one of the 18 even numbers (2, 4, 6).

1 to 18 and 19 to 36 - Also an even money bet. A bet on whether the ball will stop on any of the first 18 numbers or any of the last 18 numbers.

Dozens - Bets on the first (1st 12), second (2nd 12) or third (3rd 12) numbers pays 2-1.

Columns - A bet on all 12 numbers on any of the three vertical columns. The chip is placed on the space below the final number (2:1). Bets on any of the 3 columns pays 2-1.
The casino gets its edge from the 0. It is not red or black, odd or even, neither part of the first 18 nor the last 18 numbers. If the ball lands on 0 it pays 35-1 and all outside even money bets it pays 50% back on your original bet.

Inside Bets

An inside bet is placed on a specific number or a group of numbers. Inside bets include Single number, Split, Street, Corner, Six Line and Trio bets. Inside bet have
lower odds but a higher payout.
Straight Up - Bets on individual numbers, including 0, are placed by putting a chip/s inside a numbered box. If a straight up bet hits, it pays 35-1.

Split - This is a bet on two numbers and it pays 17-1. A split bet is made by placing a chip so that it straddles the line between two numbers.

Street - A three number bet paying 11-1, is made by placing a chip on the line that separates the outside bets from the inside, indicating a row of three consecutive numbers.

Corner - A bet on four numbers in a square layout (as in 1, 2, 4 and 5). The chip is placed at the horizontal and vertical intersection of the lines between the four numbers. A corner bet pays 8-1.

Double Street - A bet on two adjoining Streets, with the chip placed at the corresponding intersection, as if in between where two street bets would be placed. A Double Street bet pays 5-1.

Trio - A bet on the intersecting point between 0, 1 and 2, or 0, 2 and 3. A trio bet pays 11-1.
Call bets or Announced Bets.

Orphelins (orphans)

These numbers make up the two slices of the wheel outside the Tiers and Voisins. They contain a total of eight numbers, the Orphans comprising 17,34,6 and the Orphelins being 1,20,14,31,9. Five chips or multiples thereof are bet. One chip is placed straight-up on 1 and one chip on each of the splits: 6/9; 14/17; 17/20 and 31/34.
Tier Du Cylindre (the third)

This is the name for the twelve numbers which lie on the opposite side of the wheel between 27 and 33 including 27 and 33 themselves. The series is 27,13,36,11,30,8,23,10,5,24,16 and 33. Six chips or multiples thereof are bet. One chip is placed on each of the following splits: 5/8; 10/11; 13/16; 23/24; 27/30; 33/36.
Voisins du zero (neighbours of zero)

This is a name for the seventeen numbers which lie between 22 and 25 on the wheel including 22 and 25 themselves. The series is 22,18,29,7,28,12,35,3,26,0,32,15,19,4,21,2 and 25. Nine chips or multiples thereof are bet. Two chips are placed on the 0,2,3 trio, 1 on the 4/7 split, 1 on 12/15, 1 on 18/21, 1 on 19/22, 2 on 25/26/28/29 corner and 1 on 32/35.
Malfunction voids all plays and pays.