Blackjack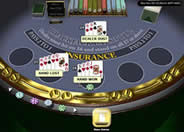 Blackjack, also known as Twenty-one, is the most widely played casino game in the world.

How to Play Blackjack
1. Launch the Blackjack game.
2. Click the 'New Game' button to begin a new game.
3. Select the denomination which you would to bet.
4. Place your bets by clicking on the 'Click here to place bet'
5. To remove or change the amount you wish to bet, click the 'Clear Bets'.
6. Now click "Deal" to start the hand.
7. You will be dealt 2 face up cards with the options to 'Hit', 'Stand', 'Spit', 'Double' or take Insurance.

In Blackjack the 2 through 10 cards are worth their face values. Jacks, Queens and Kings are worth 10. The ace has a value of either 1 or 11. If the first two cards the player or the dealer receives are an ace and a 10 valued card, then that hand is called a blackjack. If the player is dealt a blackjack, he has to stand and can't take any more cards. If the dealer gets a blackjack, all hand (s) which do not also have blackjacks loses, even players whose hands total 21. The hand is considered a push if the player and the dealer tie. In the case of a Push, (both in the case of a blackjack and a regular hand) the player's original bet is returned to him.
In Blackjack, a player is permitted to Hit (call another card) until they either, Bust or decides to Stand. The dealer does not have the freedom that the player has. The dealer must hit if his cards total 16 or less, and he must stand on all hands, including soft hands, that total 17 to 21.
Players may Double Down on any hand. When a player doubles down, his bet amount is doubled and he receives one more card, and then automatically stands.
A player may Split only if he receives two initial cards with the same denomination, as opposed to cards with the same value. This means that if he receives a Q and a 10 he may not split, but he can split two Q's or two 10's. When Splitting aces, only one card per ace is drawn. If a player draws a 10 card after splitting aces, the result is not considered a blackjack. In Classic Blackjack a player can split only once per hand.
If the dealer's first card is an Ace, a player can take Insurance, which is a bet that is equal to half of his original bet. The insurance bet is a side bet, which means it is separate from and independent of the original bet. With an insurance bet, a player can win at odds of 2:1 on his insurance bet even if he loses to the dealer's blackjack. If the dealer does not get a blackjack, the player loses the insurance bet.
There is no surrender option in Classic Blackjack.

Blackjack Terms
Twenty one (21) - A hand that is not a blackjack, but totals 21. A blackjack beats a 21.
Blackjack - A hand containing an ace and a 10 valued card. A blackjack is unbeatable, though it can be matched. It is the strongest hand in Blackjack.
Doubling Down - The player's bet is doubled and he receives one more card.
Hit - When a player calls another card to add to his hand.
Insurance - A side bet by the player, made if the dealer draws an ace. The bet is won by the player if the dealer has blackjack.
Push - When the player and the dealer have tied hands.
Split - If a player is dealt two original cards of the same denomination, he can split the cards into two separate hands and the same bet is placed on each hand.
Stand - Either the player's request or the dealer's requirement not to be dealt any further cards.
Bust - A hand that goes over 21.

Blackjack Rules
Dealer must stand on all 17.
No Surrender.
No Peek.
One Split Per Pocket.
Can Double on Split.
One card on split aces.
Cannot split Unlike 10 Value Cards.
Player Auto-Stands on 21 (twenty one).
Split Aces and 10 Value Cards count as 21, Does not Qualify as Blackjack.
Malfunctions void all pays and plays.